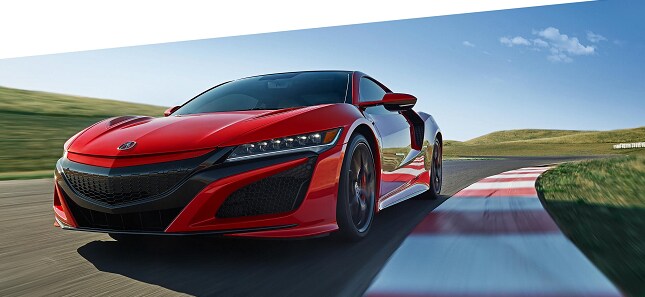 Acura not only builds a precision-crafted vehicle engineered with innovation as its tenet and excellence as its benchmark, it also builds a vision. A vision to conquer that feeling of emotional self-realization, reflecting both the power of dreams and driven creativity that fuels the craft of engineering. A new generation of engineers honor the Acura's lineage by creating a boldly evolved Acura NSX for a new century.
Acura has built an iconic supercar, the first of its kind. Ultimately, it's a New Sports experience that can only be called NSX. Powered by a bespoke Spoke Hybrid Super Handling All-Wheel Drive and 573 HP power unit, it is a total game-changer. The Acura NSX is the center of attention when you think of sports cars, that feeling of adrenaline powered by dreams, and driven by Acura.
The Difference Between A Sports Car and A Super Car?
A sports car is designed to deliver a high-powered engine, emphasizing handling, performance, and the thrill of driving. Supercars are exotic cars, delivering great style along with incredible performance. These cars are among the fastest in the world and have the best sport handling capabilities on the road today. Acura reinvented the supercar 29 years ago with the original NSX that went head to head with Ferrari and Porsche. Today, Acura continues the supercar status while offering Acura levels of reliability and comfort.
The Acura Supercar Difference
Every aspect of the Acura NSX must serve a purpose. So while NSX aesthetics are inimitable, they're not simply a matter of appeal. Every line, body panel, shape and crease, every airflow intake and outlet, every proportion and ratio is optimized to support its dynamic performance. Speed, power, and ingenuity live inside the NSX. A mid-mounted twin-turbocharged, 75-degree, 3.5L DOHC V6 engine with dry-sump lubrication is the product of infinite days and nights of relentless engineered, perfected on the track. Between the V6 and the 9-speed DCT, the direct drive supercar electric motor is attached directly to the driveshaft for immediate torque and acceleration, making the NSX ready for anything.
Discover the Acura Sports Car in Oakville
All sports car enthusiasts in Oakville, Mississauga, Burlington, and Milton are welcome to browse our inventory online or in our showroom. Find your dream Sports Car in Oakville, and contact us when you are ready to test drive an Acura Supercar or if we can help answer any questions.